Description
Taxation
This is a general overview about the Estonian tax system. For further details please follow links to original information provided in the text.
Direct taxes are withheld from the salary automatically by the employer. Direct taxes are income tax, unemployment insurance and the funded pension payment.
Income tax
As of January 2018 the tax-free amount (basic exemption) of 500 euros per month (or 6000 euros per year) will be applied on all types of income.
annual income up to 14 400 euros gives 6000 euros as annual (500 euros monthly) basic exemption
if annual income is between 14 400 euros and 25 200 euros, basic exemption decreases according to the following formula: 6000 – 6000 ÷ 10 800 × (income amount – 14 400)
if annual income is above 25 200 euros, basic exemption is 0.
Salary/Wage and Tax Calculator www.kalkulaator.ee/en/salary-calculator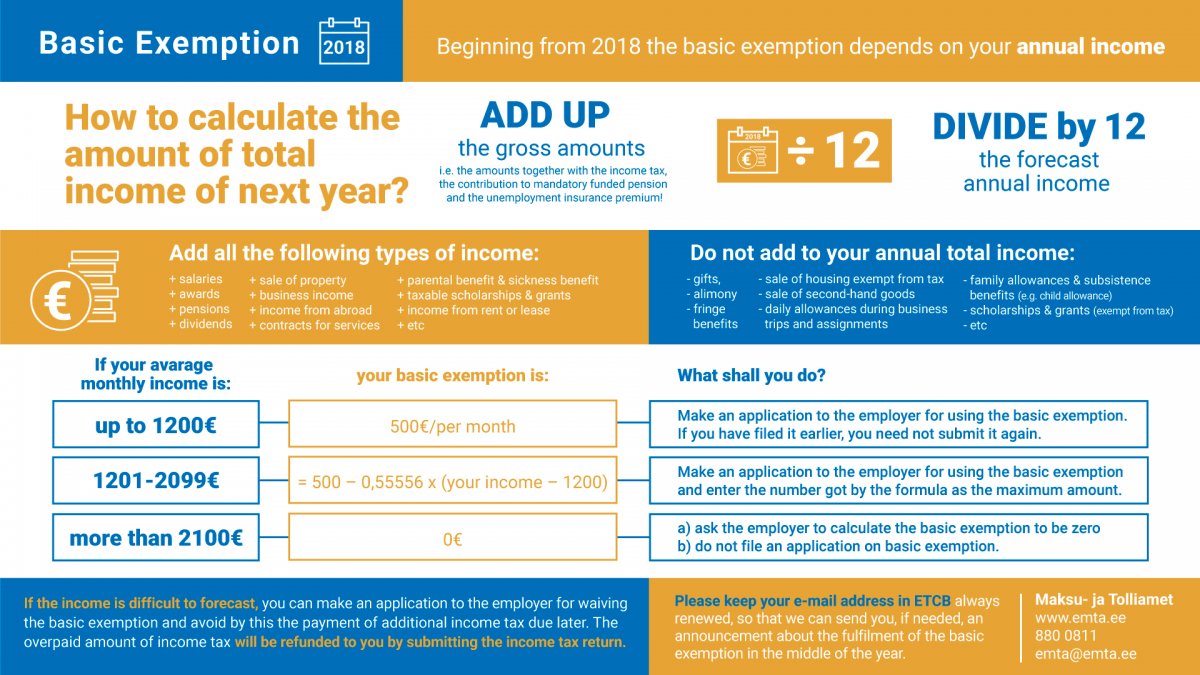 Download taxes_graph.pdf
Figure by Tax an Customs Board
You must ask your employer to take the income tax free sum into account for salary payments. Income tax is not charged on compensation for official travel, accommodation and daily allowances, if these are within the limits established by the law. Basic exemption can only be calculated and applied by one employer (the withholding agent) according to a person's application. An employee who works at several jobs shall have to take into account that he/she is entitled to use the basic exemption on one job only.
Example
With the annual income of 17 100 euros, basic exemption 4500 euros is calculated as follows:
1. 17 100 – 14 400 = 2700
2. 6000 ÷ 10 800 = 0,55556
3. 0,55556 × 2700 = 1500
4. 6000 – 1500 = 4500 euros
Annual income 19 800 euros gives 3000 euros as basic exemption and annual income 22 500 euros gives 1500 euros as basic exemption.
Applying the basic exemption on a monthly and an annual basis
The withholding agent can apply the basic exemption on a monthly basis. The amount of basic exemption is calculated according to the amount of an employee's gross salary or other fees.
Therefore, in case of the following gross income, the basic exemption is calculated as follows: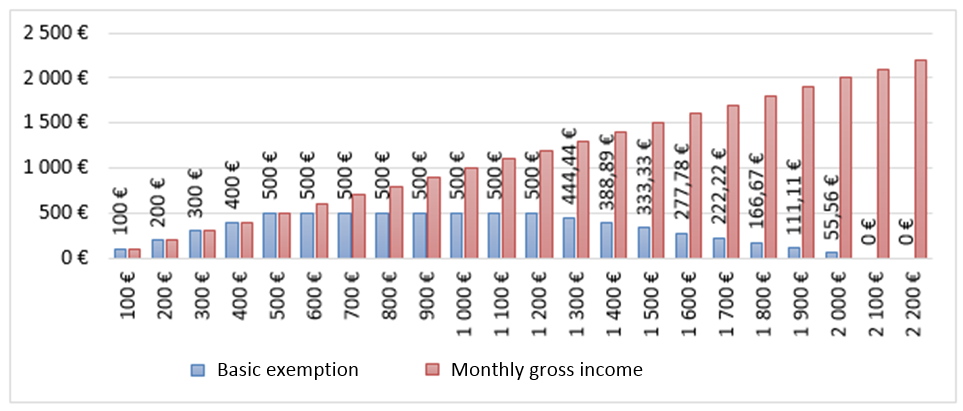 Figure by Tax and Customs Board
It is also necessary to consider that in case income received from several sources (salary, pension or other income) exceeds 1200 euros, monthly tax calculation will not give the same result as annual tax calculation.
It is recommended to submit one basic exemption application per year. In case of variable income it is possible to change the application once a month or withdraw it for applying basic exemption in a smaller amount or not applying it at all.
In case the basic exemption is monthly applied in a bigger amount than the total income enables to, a person has to pay additional income tax according to income tax return.
If basic exemption is not applied at all by withholding income tax or the possible basic exemption amount has not been used throughout the year, the overpaid income tax amount will be refunded to the person according to the annual income tax return.
It is possible to check the usage of basic exemption during the year in the e-Tax/e-Customs in subsection "Data from employers" → "Data from form TSD" → "Väljamaksete andmete vaatamine" ("Viewing payment data").
For personal assistance contact EURAXESS Service Centres in Estonia or the Tax and Customs Board:
Tel: 880 0811
Skype: mta.eesti
E-mail: fyysisik@emta.ee
Information in this section is based on information provided by the Estonian Tax and Customs Board webpage about tax-free income.
See also:
Estonian Tax and Customs Board - Check for non-residency (mitteresidentsuse kontrollimine)
Tax and Customs Board - Amount of tax-free income beginning from 1 January 2018
Estonian Tax and Customs Board - Income tax information for employees
Unemployment insurance
A monthly unemployment insurance tax of 1,6% is deducted from your salary by your employer.
Funded pension payment
A funded pension payment is withheld from your salary at a rate of 2%, if you have joined the optional funded pension system. You can read more about it in the Pensions section.
Social tax
Social tax is paid by employers at a rate of 33% on all payments made to employees for salaried work performed. Social tax is not part of the salary number; it is calculated on the basis of the agreed (gross) salary. 13% of the social tax goes to the Health Insurance Fund and 20% goes to pension insurance.
There is an extra 0,8% unemployment insurance payed by the employer, not included in the salary number.
Other taxes
The most important of the indirect taxes is the value-added tax (VAT), which is 20% (from 1 July 2009) for most goods. The VAT for some goods, such as books, medicines etc., is 9%. There are also more indirect taxes for gambling, tobacco products and alcohol.
See also:
Estonian Tax and Customs Board - Information for private client
Estonian Tax and Customs Board - Amount of tax-free income beginning from 1 January 2018
Estonian Tax and Customs Board - Submission of income tax returns for 2017
Estonian Tax and Customs Board - Income tax information for employees
Estonian Tax and Customs Board - Conventions for the avoidance of double taxation and the prevention of fiscal evasion with respect to taxes on income and capital
Estonian Tax and Customs Board - How to get refund of income tax to non-resident natural persons in Estonia
Estonian Tax and Customs Board - Taxation of income of non-residents
Estonian Tax and Customs Board - Tax return forms
Estonian Tax and Customs Board - Tax rates
www.kalkulaator.ee/en/salary-calculator Salary/Wage and Tax Calculator
Work in Estonia - Taxation obligations
Last updated in January 2018